Fuel Top Screen Advertising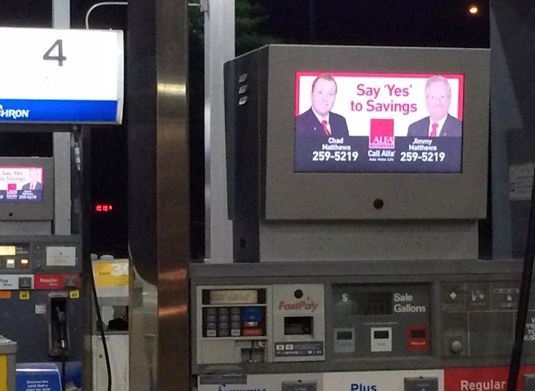 Fuel top screens are becoming one of the most effective new ways of outdoor advertising because they are located at high traffic gas stations where consumers are stopped pumping their gas and you have the ability to capture their undivided attention.
Fuel top screens support playing full motion video and audio as well as provide you with the opportunity to display different ads each week of your campaign. Because fuel top screen locations are all connected to the Internet, you may also use a RSS Feed to display Real-Time information, such as the score of a baseball game, countdown clock to a TV show/movie release or live weather and traffic updates.
The following is general information on the cost of fuel top screen advertisng, fuel top screen locations and how to advertise on fuel top screens. If you are ready to get specific information for your particular need, please fill out the form to the left or contact us for a free consultation.