Sports Jumbotron Advertising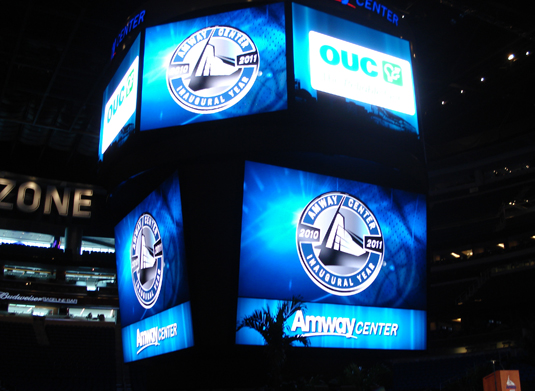 Sports jumbotrons are a major highlight of every sports stadium or arena and are used in a variety of ways throughout each game, including instant replays, statistics, and out of town scores, all of which mean fans are very engaged with this particular medium.
Another unique opportunity that sports jumbotrons provide is the ability to intertwine your advertising with the teams logo or theme of the sports attraction. A perfect example of this would be if a Paint company sponsored a Pre-game advertisement program for the team, by calling it the "XYZ Paint the Picture" featurette. The featurette can include your company's name and logo in the corner while showing the keys to winning the match for the home team. This gives fans an oppportunity to get drawn into the programming and in the process be exposed to your logo and branding.
It is for these reasons that sports jumbotrons have become one of the best ways for you to reach the loyal fan.
The following is general information on the cost of sports jumbotron advertisng, sports jumbotron locations and how to advertise on sports jumbotrons. If you are ready to get specific information for your particular need, please fill out the form to the left or contact us for a free consultation.
Cost of Sports Jumbotron Advertising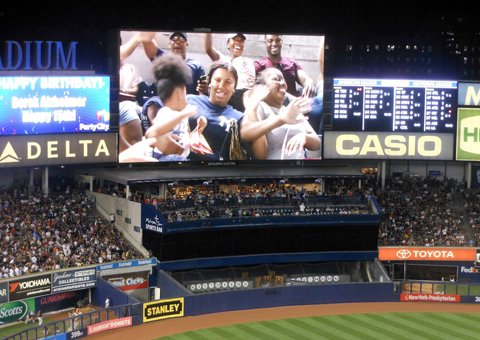 The cost of sports jumbotron advertising space varies greatly depending on factors such as location, demand from other advertisers and length of campaign. One sports jumbotron location may cost a little as $4,500 per game or less while another may be priced at $15,000 per game or more.
The most common factors that influence the cost of a fuel top screen advertising campaign are:
Location
The location of the sports jumbotron is going to dictate how many people see your messaging. The more people that see your message, the more expensive the sports jumbotron location will cost.
Demand from other Advertisers
As with anything, price goes up with demand. Naturally, the best performing sports jumbotron locations will have high demand from advertisers who are already successfully using them. This means that price will be higher for these locations for new entrants.
Length of Campaign
The length of your campaign on a sports jumbotron location will also have an impact on pricing. For example, if you wanted to display a message for only half a season, it may cost more on a per game basis than if you chose to display a full season campaign. Booking time in advance will almost always result in lower rates as well.
Sports Jumbotron Locations
Location is a big factor in the price of advertising space on sports jumbotrons. Previously, there was no known reliable public database of every sports jumbotron location because most sports jumbotron locations are individually owned and operated, and it would take a very long time to locate them all.
Thankfully, AdSemble has already done this for you.
Since 2008, AdSemble continues to identify where every sports jumbotron exist and records this information in a Free searchable database, so you can easily find sports jumbotron locations in your area, at absolutely no cost. Try it out by using the drop down at the top of this page and search for sports jumbotron locations near you.
How to Advertise on Sports Jumbotrons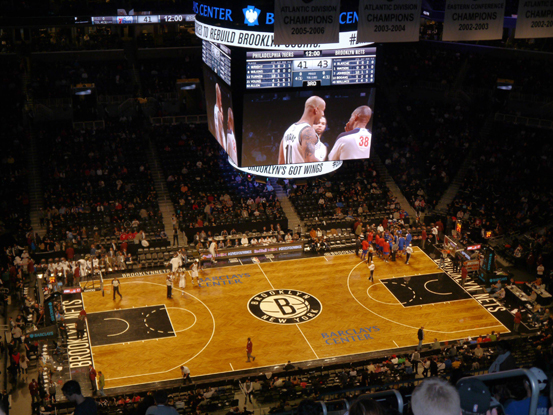 When deciding to rent advertising space on sports jumbotrons, it is important to consider what your advertising goals are and how you can use the sports jumbotron's full capabilities to accomplish these goals.
Also, depending on what your target demographic is, an AdSemble Marketing Consultant can help match you to the most effective and price efficient sports jumbotron location possible.
Contact us today for a free consultation where one of our Marketing Consultants can also share with you secret tips and tricks on how to design your ad for optimal results.