Billboard Advertising for Lawyers
Since 2008, AdSemble has specialized in helping personal injury attorneys dominate their local market with key outdoor advertising billboard placements.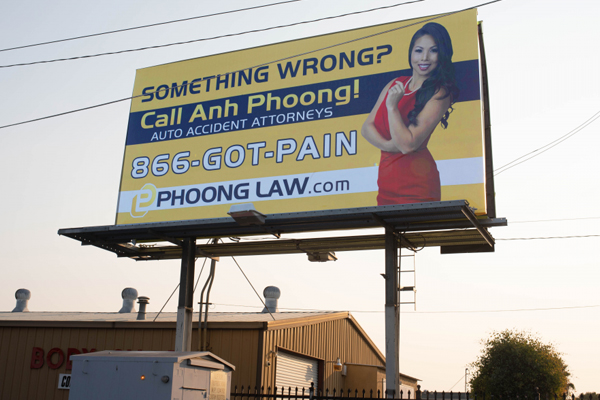 Why Billboards Work for Lawyers?
When someone has been involved in a devastating car accident, their mind is processing a million thoughts. By dominating the sky ways with your image, phone number and website, it will be one less thing they have to think about. They will call you and you will get the chance to settle a potential multimillion dollar lawsuit. Because traditional printed billboards can only be occupied by one advertiser at a time, your competition will not be able to own the conversation the same way in which you dominate. That is why most of our clients sign up for annual contracts to ensure that no other competing law firms can be seen in the entire area.
What's the Cost?
Depending on the location and highway traffic count, one high quality, high impact traditional printed billboard can range between $10-20K per period (4-weeks). Printing and Production fees are separate and usually run about $1K per each high quality vinyl print. There are 13 billable periods in a calendar year.
What's Going to be My ROI?
Our average lawyer client who purchases at least six to twelve billboards in their community for one year has reported back earning back 200% ROI in terms of billable hours and settlement fees as a result of new clients recognizing their prominence and dominance in the community. Billboards convey status, prestige and because the general understanding is that billboards are expensive only the most successful law offices and even afford them, further establishing trust with new clients.
How Do I Get Started?
Fill out the form on this page and someone from our team will be in touch to help you setup and launch your campaign.